About Cath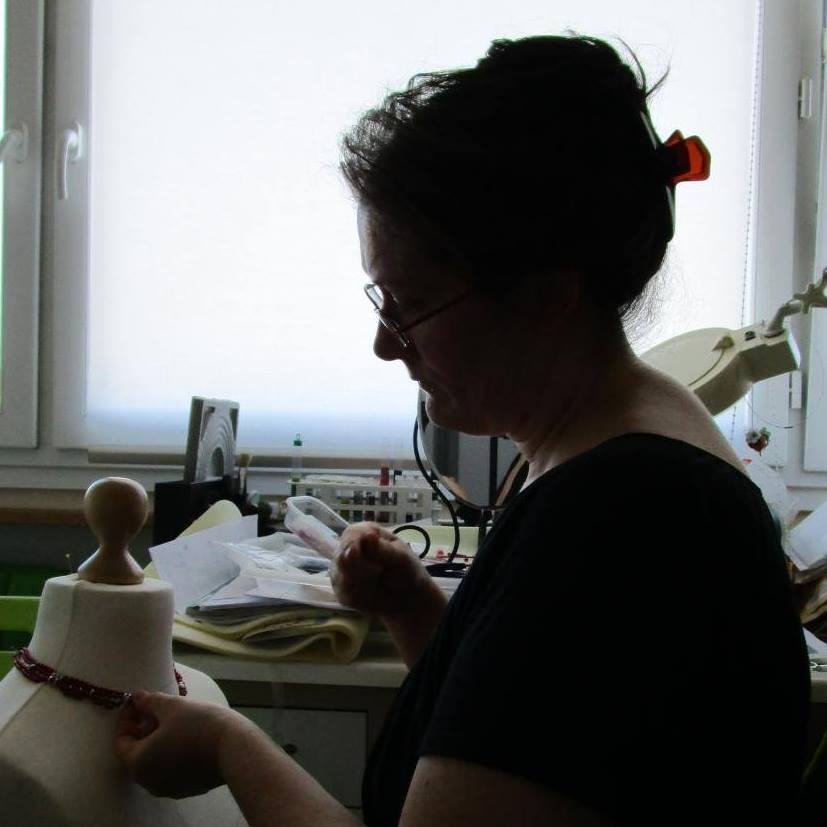 Cath received the gift of beading from her mother's friend and multi-talented art therapist Berthy Bijlard at age 14. However, she immersed herself in beadweaving only in 2004 after seeing beadwork made by artists for that year's Bead Dreams Contest. She started dreaming of making her own "dream necklace" and hasn't stopped beading ever since. Being creative helps her coping with light-intollerance.
Her favorite techniques are off-loom stitches such as Peyote, Herringbone, Diamond Weave and variations and combinations of techniques to create 3-Dimensional beadwork. She also likes bead embroidery for it lends itself well to incorporate metal and other elements.
If you ask her about her style, she'll answer "I don't know if I do a style, but I want my work to have style, which can somehow be understood as elegance. Some persons who's opinion counts for me say that they recognize my work without beying told that it is mine. This could mean that I have my own style, and that is absolutely wonderful."
Cath's main inspiration comes from Mother Nature and geometrics. She says that her left brain is a control freak attracted by geometrics and that her right brain is a poet in love with nature's splendor and all living beings. She strives to blend geometric and organic shapes, and often uses game tactiques, to create her pieces.
To challenge herself and think outside the box, Cath participates in contests from time to time. In Fire Mountain Gems & Beads beading contests, she won five times a gold medal - two in 2006 of which one Grand Prize Gold Medal, one in 2016 and two in 2018. She scored a third place in 2007, a second place in 2009 and another second place in 2018.
She also likes to participate in special projects, collaborations and explorations and sometimes creates designs to raise funds for nature-related goals.
Cath has contributed and still contributes to beading books and magazines. She also wrote a book herself in collaboration with Gerlinde Lenz who invented a new beading stitch, Diamond Weave, a labor of love.

When she doesn't bead, she is either busy with her birds or fish, or playing with essential oils and aromatherapy, to make her own perfumes, creams and remedies.